Importing Noor Demos
IMPORTANT NOTE: This method is available for Noor versions 5.2 or higher.
The easiest way to import our demo content is to use our Demo Content Importer. You can access this after you register your purchase via purchase code. Our importer will give you all pages and posts, several sample sliders, widgets, Theme Options, assigned pages, and more.
This is recommended to do on fresh WordPress installs (With no custom / original content). It will not replace content like posts, pages, portfolios, etc. and it will not delete current menus or sliders. It will, however, import and set as active our demo menus, add sliders and replace current Theme Options with demo settings. It will also replace WordPress Reading and Widget Settings.
How To Import Noor Demos
Step 1 – Navigate to the Noor > Setup Wizard tab in your admin top bar. It will get you to Welcome page Click Start and skip step until Plugin setup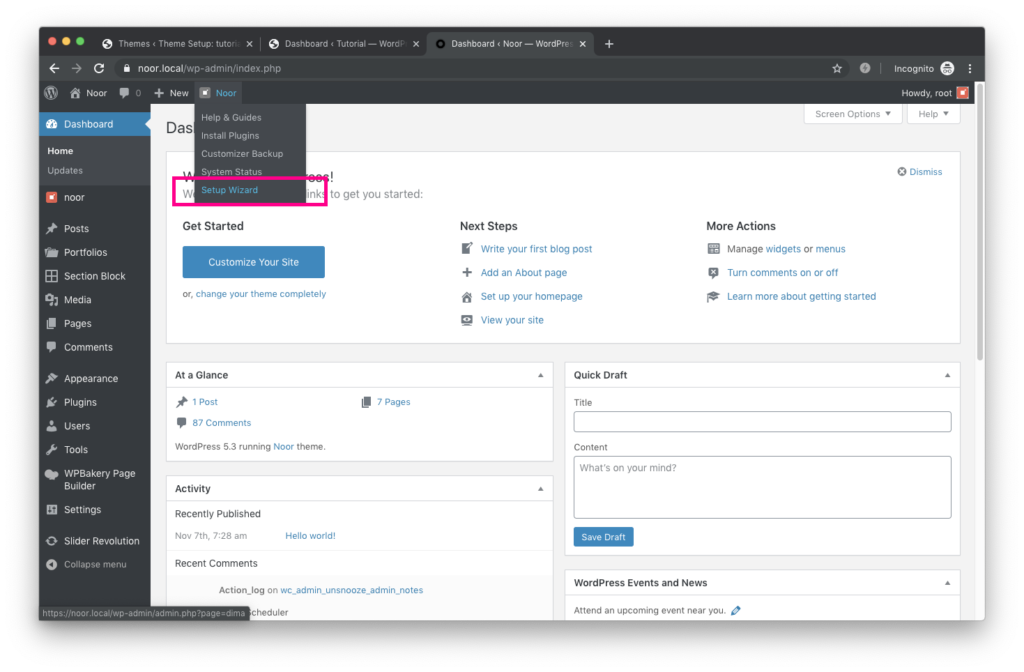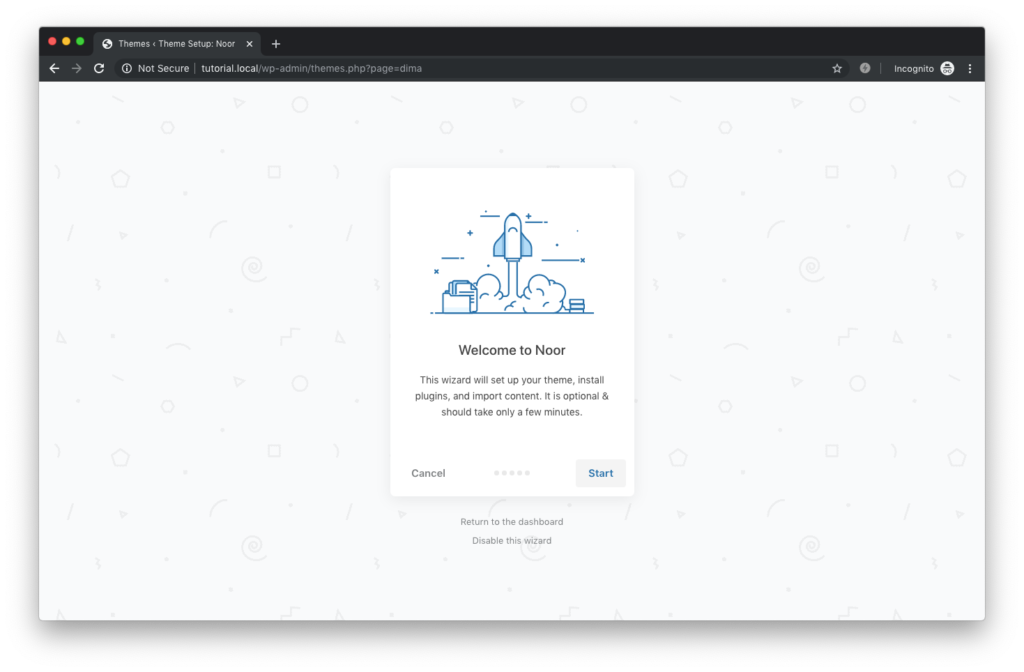 Step 2 – Choose what plugin to install depending on your need and the Demo you want to install.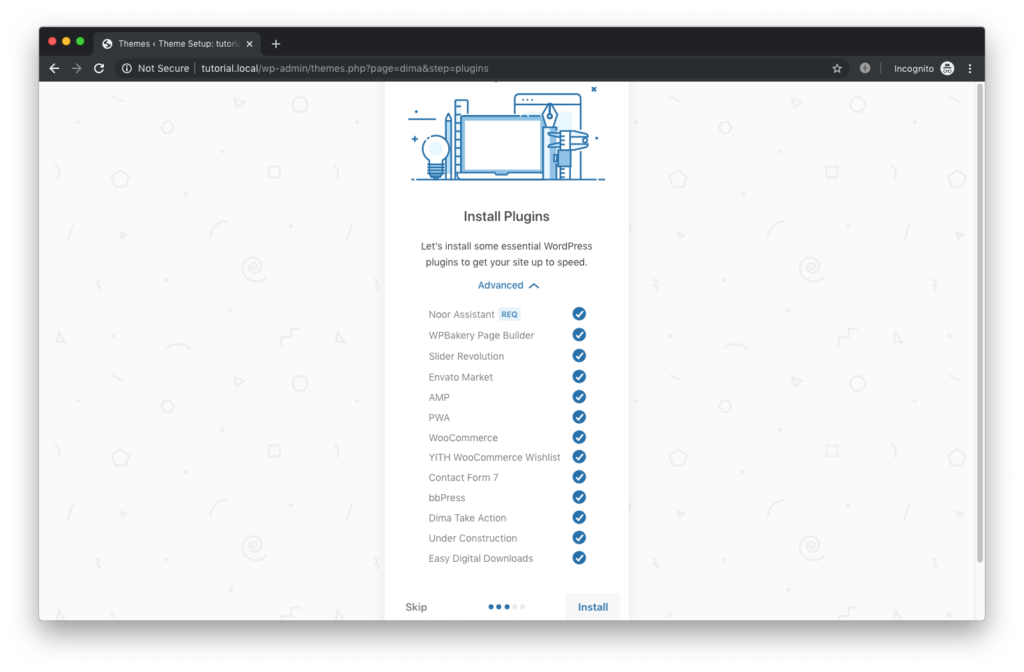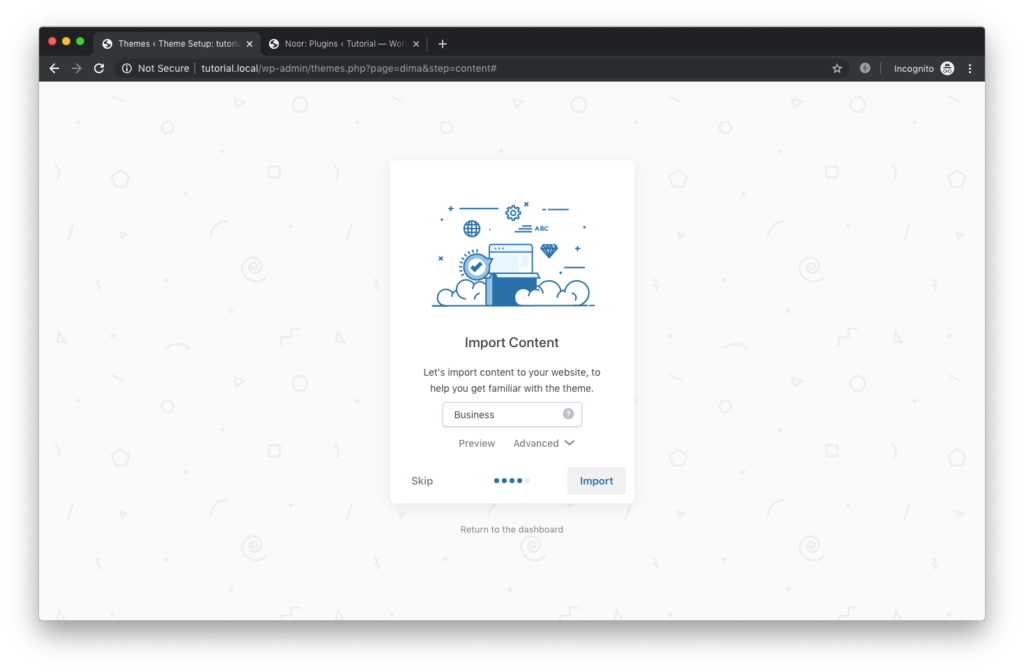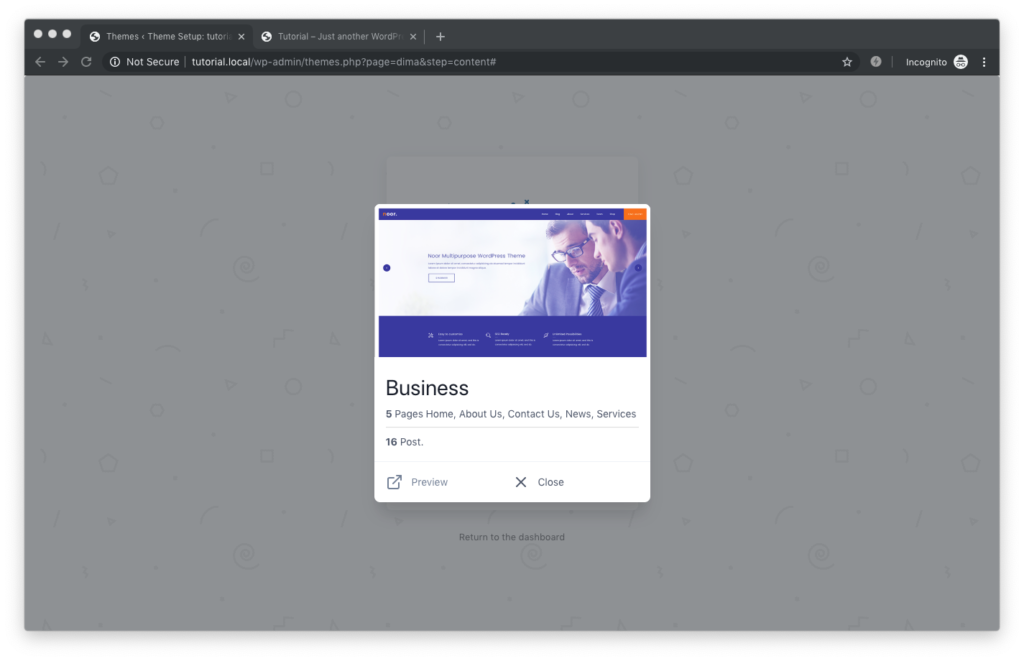 Step 3 – Choose what content to import. Your selection can range from "All Content", which will be the full demo content, to just pages, posts, or any combination of those content options. Once you've made your selections, click "Import" to start the process. It can take a few minutes to import everything. Please be patient and wait for it to complete. Once complete, the loading bar will become a "100%" button. a move you to the next popup "All done, Have fun"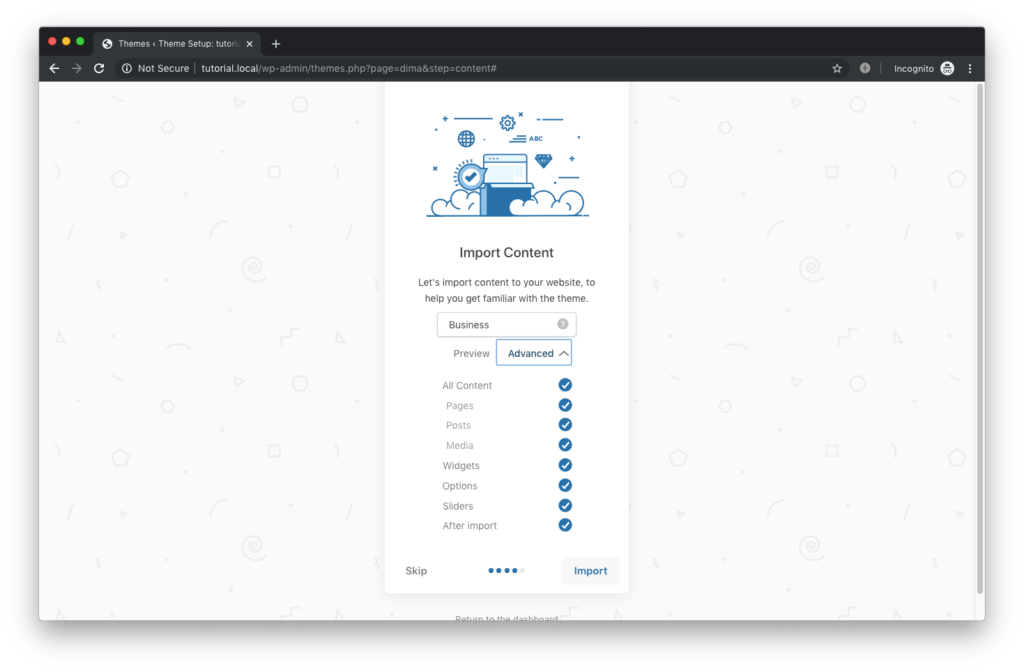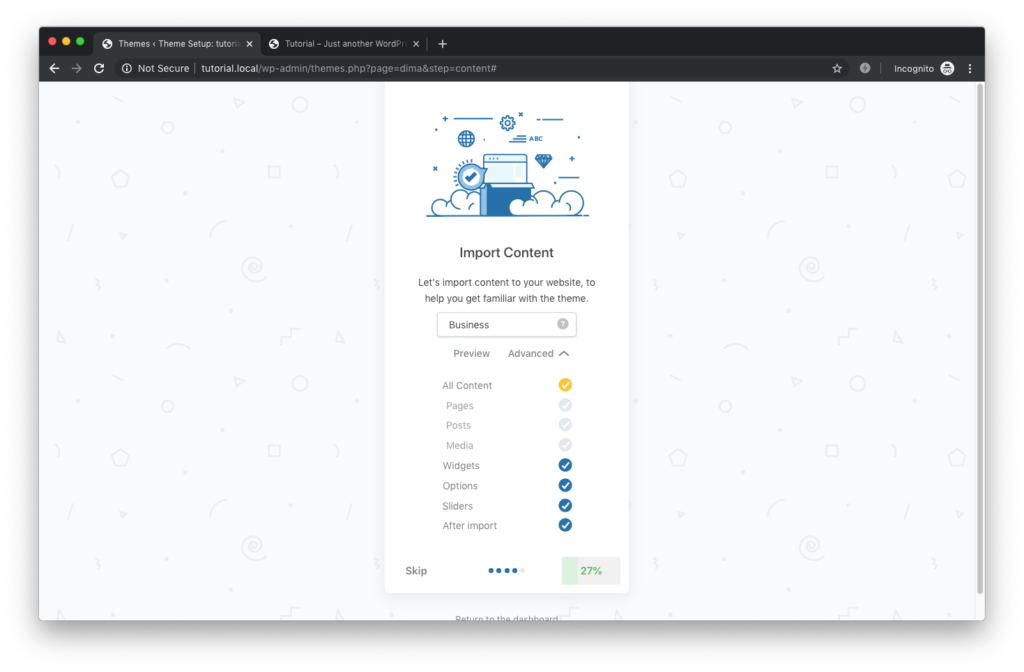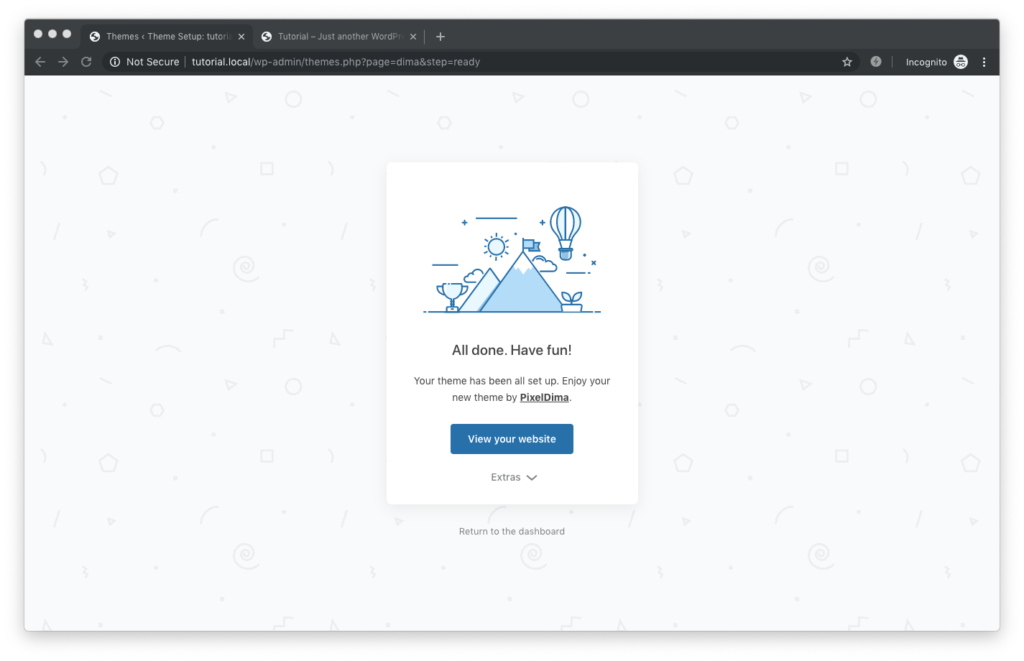 Step 4 – This is an optional step and not necessary if you're planning to replace the demo images with your own. After importing, you can Regenerate Thumbnails to create all the theme generated sizes of these images. To do this, install and active the Regenerate Thumbnails plugin, then go to the Tools > Regen. Thumbnails tab in your WP Admin sidebar and choose 'Regenerate All Thumbnails'. This will regenerate all images and allow the theme to use specific image dimensions in various areas for a cleaner layout. This may take a moment to complete.
Troubleshooting
If you encounter errors during or after importing a demo, please see below for possible solutions. If you don't find what you're looking for below, please don't hesitate to submit a support ticket to our support team.
Demo import failures
If your demo import is failing, you'll always want to check your System Status page first to see if there are any low limits in yellow. If you see that, increase them to the recommended limit and then try the import. Generally, your web host will be able to take care of increasing low limits for you. More info on changing these specific server limits can be found here.
Demo Content Still Will Not Import – Try Manual Method
If your host will not make changes, or you cannot get the demo content to import, then please try our Manual Demo Import.
Demo Content Duplicated
If you do have duplicate demo content to existing demo content, you can use the below methods to address this:
Method 1: WP Reset Plugin – This plugin is the fastest way to get rid of content. However, it will remove all content from your database and leave the default theme activated. It does not remove plugins, but will deactivate them and remove all pages, posts, menus, sliders, widget data, Fusion Theme Options, etc. It removes all the content from your database. Only do this if you are planning to start your site freshly from a new WordPress install/new demo import. Click here to download the WP Reset plugin.
Method 2: Manual Removal – This method will take longer and simply involves manually removing duplicate items. For example, go to the Appearance > Menu and delete any duplicate items one by one. It will be the same process for pages, posts, sliders, etc.
Demo Blog Posts Show Up In Your Blog Feed
Our demo content contains published blog posts. If you import on a live site, plugins like JetPack will notice new posts and push them out into your blog feed. Please disable any plugin that may do that before you import it. After the import, you can remove the posts or save them as drafts then turn your plugin back on.